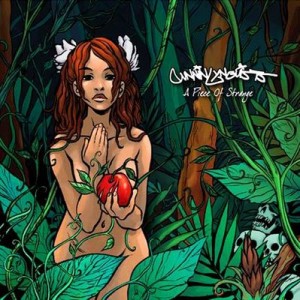 Welcome to What is a Piece of Strange. What is this site? Well, it is a site dedicated to the album A Piece of Strange by hip hop group CunninLynguists.
Not familiar with the album? Wikipedia describes it as follows:
A Piece of Strange is the third studio album by CunninLynguists. It was released January 24, 2006, by The LA Underground, a record label based in New Mexico.
The "high-concept record" tells the "tale of the pathway to and from sin". The album was produced entirely by Kno, and vocals are by Kno, Deacon the Villain and Natti, who joined the group prior to the recording of the album. Featured guest vocalists include Cee-Lo Green, Immortal Technique, and Tonedeff.
Deacon and Kno have both cited the album's importance to their careers in interviews, with Kno calling it a "turning point" for the group. CunninLynguists toured domestically and overseas in support of the album, appearing with acts such as Depeche Mode, Kanye West, Bun B, and Pharrell Williams.
The album received positive reviews in various magazines, with XXL calling it "soulful", "raw", and "sophisticated", URB calling it "a piece of beauty", Scratch calling it "top-shelf", CMJ calling it a "beautiful…dense opera", and The A.V. Club calling it "vast and ambitious".
The album's cover art is by Becky Cloonan. Cloonan's collaboration with CunninLynguists occurred following her listing their song "Love Ain't" as something she was listening to in an issue of her comic Demo.
The album is a beautiful story from beginning to end with beautiful production, great lyrics and a fantastic concept.